Here's how a streetcar might work in Omaha.
Envision a city where everyone can get where they want to go, where residents are more connected, and where transit significantly increases access to jobs and education, and is a catalyst for real growth. A streetcar is our next step in making this a reality.
Where & When?
Where might the streetcar be built?
Streetcars are most successful in areas where there is the most opportunity for economic growth and ongoing use. According to a 2017 study by Goss & Associates, the Farnam Street corridor not only brings significant ridership generators (major medical facilities, universities and cultural amenities), but has the highest rate of educated millennials in the region, which has been an important factor for other cities with successful streetcar lines. The corridor seen below is just one preferred route of many options.
When would we be able to ride the streetcar?

We could be riding the streetcar in as little as four years, depending on how we decide to move forward together. By reigniting the conversation today, we hope to motivate the community to prioritize a larger transportation conversation and to continue talking about the streetcar today.
Goss & Associates, "The Impact of a Walkable, Workable, and Livable Midtown Omaha," January 2017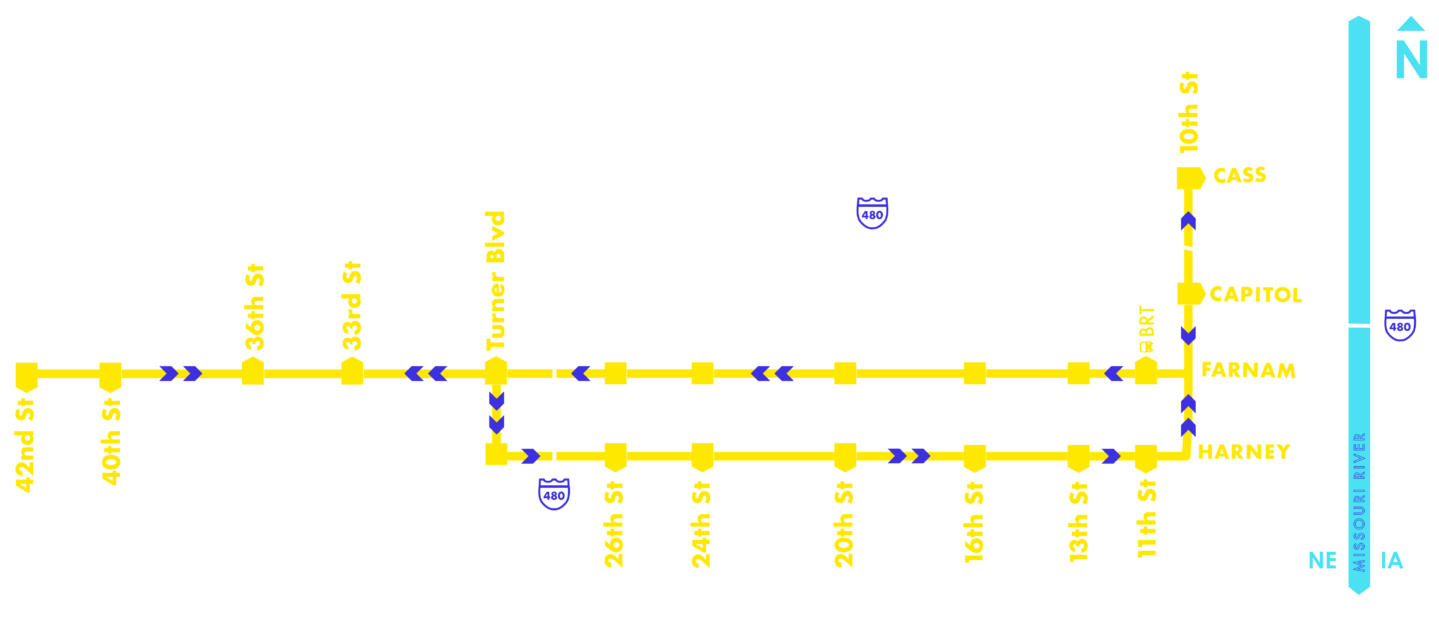 Projected Annual Impact
Projected annual impact of a streetcar on Omaha totals $21.3 million in added annual property tax revenue. Estimated streetcar related revenue projections based on Central Omaha Alternatives Analysis market projections, SB Friedman Development Advisors, 2013 and HDR Development Yield Analysis, 2016.
$4.6 million in added annual city tax revenue

$11.9 million in annual OPS tax revenue

$4.8 million in added annual revenue for other taxing entities
How is a modern streetcar different from a bus or other forms of transit?
A streetcar operates on tracks, typically mixed with auto traffic, and can be powered by overhead power lines and/or battery.
Photo courtesy of the KC Streetcar Authority
Streetcar vehicles feature low-floor boarding for easy wheelchair, stroller, bike and ADA accessibility. The low floors also make boarding faster and easier for everyone.
Streetcars have a higher capacity than a bus and can move more people more efficiently with fewer vehicles. Streetcar vehicles also last many decades longer than buses.
While streetcar systems do require an initial capital investment, operating a streetcar system is often less expensive per trip or passenger mile than traditional buses.